There's nothing as fun as a Texas ranch-style wedding! Think 90's country on the dance floor, fancy bbq, and some friendly sunset corn hole under the string lights. There are over 150 rustic barn wedding venues in Texas. The trending styles range from classic red barns, to massive metal and limestone barns, to modern black & white farmhouse style spaces! No matter what look the bride and groom prefer, today's venues are designed with so much specificity for couples' big day.
We have put metal roofs on several barns and event spaces in Texas. Each one had a different roof color and design that gave it a distinctive look. Some owners even turn part of the roof into a party-sized patio for a romantic, star gazing space. If you are building a barn, or refurbishing one for an event space, you not only want to assure that the roof suits your desired design, but that it is a quality material. Here are a few suggestions from our team at Target Roofing for a wedding venue roof design.
A Vintage Texas Barn Roof Style
For those who love staying true to classic architectural traditions, this is a good route to embark on when starting your design plans. Refurbishing an old barn is not only full of rustic elegance, but also eco-friendly. The only catch is adapting these styles to modern event space needs. Recycled and reclaimed wood is full of character, and a more natural, minimalistic look is trending. The Texas vintage barn look can be achieved with plenty of wood, natural stone, and a galvalume metal roof. Here are our suggestions:
Roof color–

Classic red barn with a tin roof– choose a clear-coated corrugated galvalume metal roof or white painted galvalume. This is a common style and material for agricultural type buildings. Galvalume is a blend of aluminum and steel and will eventually give you a rusted look. Today's corrugated metal material is galvanized with zinc for extra protection.
Wooden barn– Before sheet metal was used barns would be all wood. With lap siding or board and batten walls and a wood shake style roof. The southern United States is tough on wooden structures. High humidity and intense sun will do a number on any type of wood. These require lots of maintenance. Expect some minor repairs and replacement much sooner than masonry or metal facades.
Roof Design–

Gambrel roof barn– This iconic style barn roof dates back to the colonial era. It has a double pitch, usually a second story, and plenty of room for storage. Gambrel roof barns are generally more durable, but not ideal for heavy snowfall or windy regions.
Monitor barn– This type of barn is typical for horse barns. It features a raised area above the central aisle for more light and ventilation, and also can provide space for extra private rooms.
Reclaimed Barn
Another popular trend is to buy an old barn that someone is ready to remove from their property. There is great opportunity for both buyers and sellers. Instead of paying to demo a barn, specialized crews can come in and disassemble the barn. The pieces are labeled and packaged for shipping. Once at their new home the barn can be laid out and the reconstructed barn process can start. Reclaimed wood/barns have characteristics that can not be achieved with new materials. These venues come with a story and create a unique experience for everyone that walks through the door.
Synthetic Roofing–

If real wood or slate are not a viable option there are some amazing products out that will help achieve the old authentic feel and look. Companies such as: Brava Tile, DaVinci Roof Scapes, Euro Shield, Tilcor, and Decra all are in the business of making products that will outperform the real thing. Some in cost, others in durability and longevity. There are some great options that will still do justice to the building add to design and beauty.
Hill Country Barn
The most desired region of Texas for wedding venues is in the Hill Country region. This area of Texas has many architectural styles, however, the traditional white stone and metal roof or and german schmear designs are always beautiful.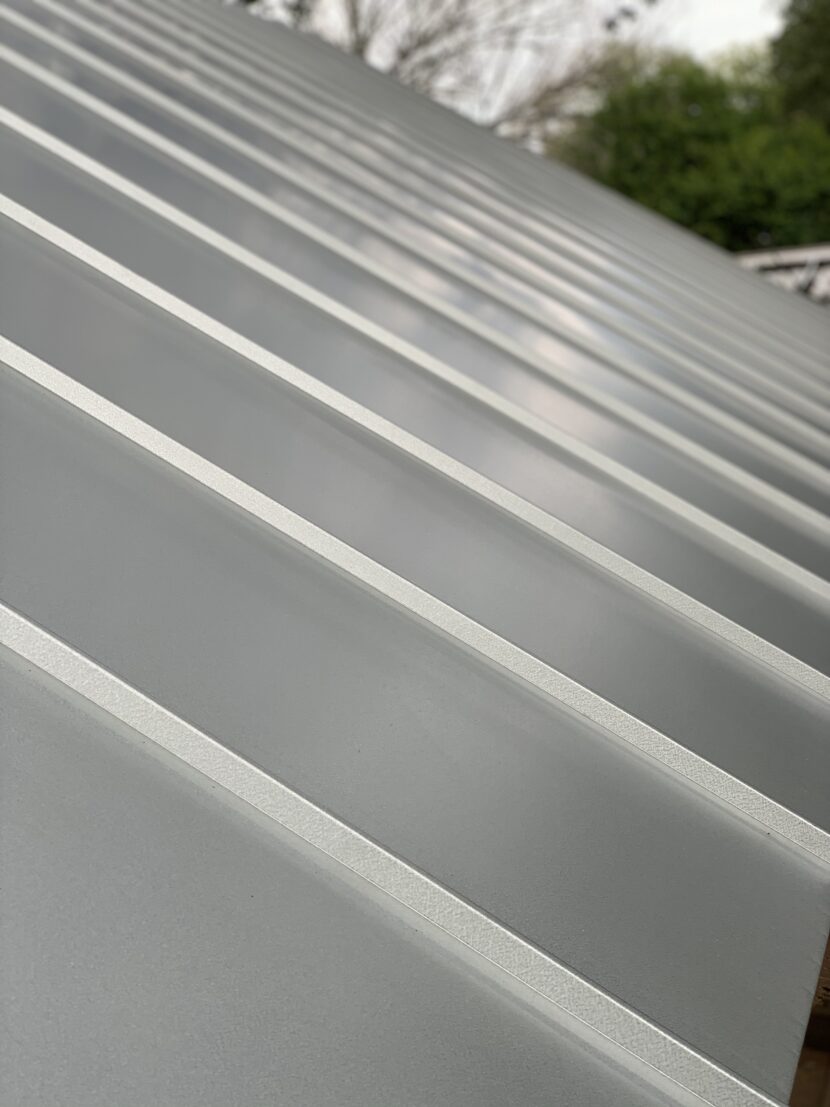 Ultra-Modern Metal Barn
If you'd like to go the Restoration Hardware route for your venue, here is our suggestion for roof color and design. Shades of gray for paint colors and wood colors mixed with modern hardware and lighting will achieve the look on the interior and exterior. For the roof, we'd recommend the following designs and colors:
English Gable Roof–

This type of design will feel spacious and minimalistic. Add large sliding doors on the side of the building, or do the whole back of the venue in glass windows for an inviting, open-concept feel!

Prairie Barn Dutch Roof–

This is also often referred to as a "western barn" as it is the classic American barn style. It is characterized by long, sweeping roofs that seem to almost touch the ground, and a peak that projects above the area that would be for hay storage.

Metal exterior–

Usually this look is either out of aged tin or in a standing-seam style. An aged tin exterior his can help achieve a Texas bohemian style. In this winery example, standing seam metal panels painted a dark metallic color gives a more industrial, city-chic look.

Metal roof colors–

Matte black, a metallic finish such as a dark bronze, copper, or steel, or paint the metal in gray tones such as a charcoal or slate gray.
Farmhouse Style or Modern Minimalistic Barn
Paint the whole barn black and white, or better yet, only black or only white- inside and out. This high-contrast, simplistic, minimal style for both paint and design is a pinterest-wedding win. Clean lines are a trademark design feature, thus you often see the fascia of the roof trimmed in a contrasting color from the rest of the building. Large or small divided light windows and symmetry are also exterior elements to include. But, almost in all situations, a metal roof will complete the look.
For roofing materials we would suggest:
Matte black standing seam
Clear-coat galvalume
Copper roof