There are many roof design styles to choose from when building a dream home, adding on to your house, remodeling, or getting a roof replacement. When starting on this design adventure, you wouldn't think how much a roof plays into the whole look and feel of your home. The roof style you choose is not only an important element to the overall aesthetic, it can also reflect your values as far as being environmentally friendly.
The architectural styles of roofs range from modern to traditional. In between those polar end points you have everything from eco-friendly roof styles, to modern farmhouse roof designs, to roof additions. Even patios, overhangs, gable roof additions, or dormers can create a whole new design to your home if you're looking for an update for resale value or just wanting to add living space.
Here are 15 types of roof designs to consider for your home design plans.
1. Open Gable Roof
An open gable roof is a hip roof where all sides join to form a single peak. This type of roof allows for unique framing design out of different styles of wood like cedar, or treated wood wrapped with a water-life product, or metal. This type of roof architecture also works well for patio design.
2. Modern Gable Roof
Modern adaptations of the traditional gable roof style are trending in roof design. Gable roofs are the most popular modern roof design due to the simplicity, symmetry, adaptability, and the fact that it's easy and inexpensive to build. From squaring off the edges of the roof to meet the walls to extending the roof much farther than the home's square footage, to using metal or the same material as is used on the exterior of the home, there are many examples of this contemporary design.
3. Dormers Home Addition
To create a higher ceiling or add more interior space, you could add dormers to your roof. Building dormers involves removing an area of the old roof and building the new structure. Things to consider with undertaking this architectural project are the cost, the added square footage as pertains to your homeowners' insurance, and getting permits. There are many dormer styles to choose from ranging from classic ornate dormers to simple gable dormers.
4. Hip & Valley Roof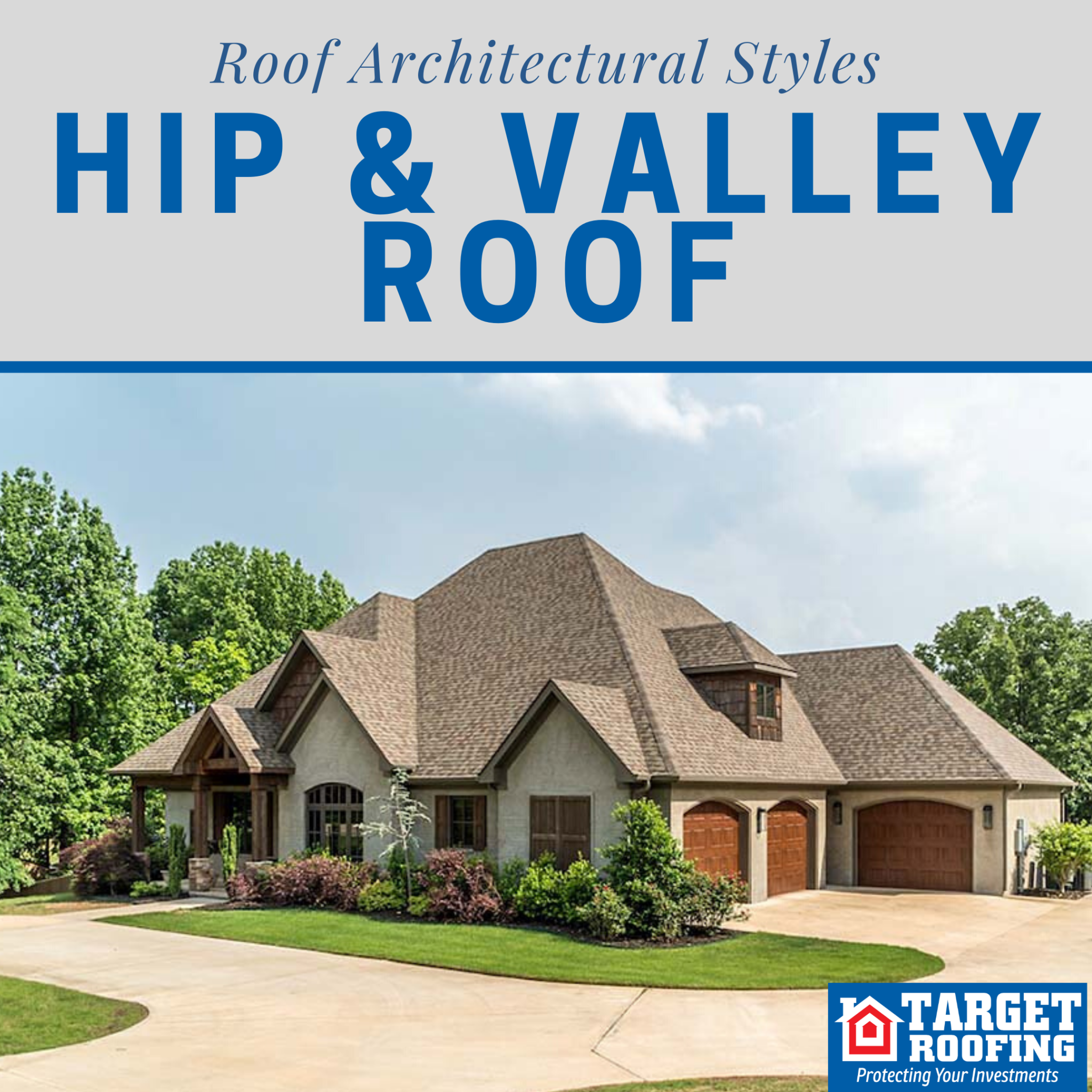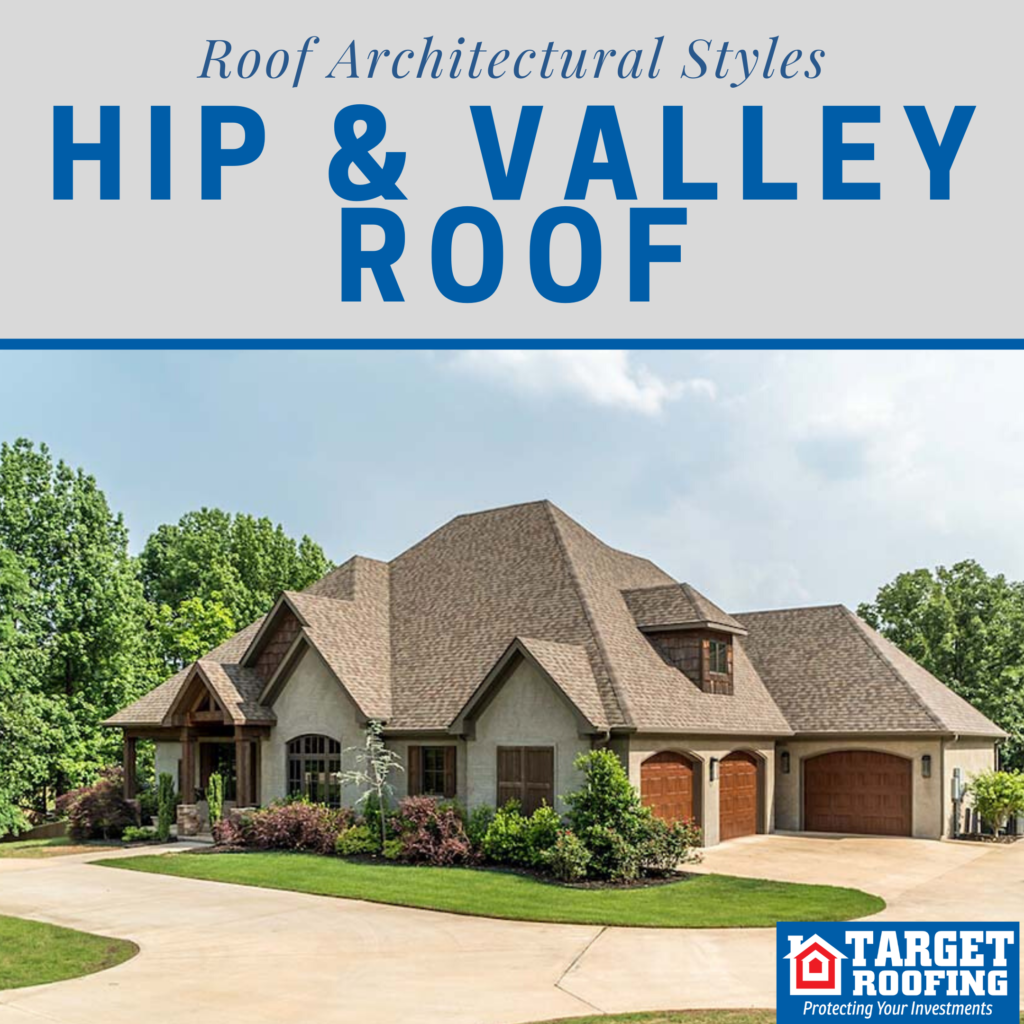 This more complex roof design is made up of intersecting rectangles. Hip and Valley Roofs increase the lifespan of a roof due to the improved gutter system, the ability to withstand strong windstorms, durability, and property longevity. This type of roof style is however, more expensive to construct and the risk of leaks is higher. The instillation portion of this build is important in that you want to hire an experienced roofer to take precautions and save you time in the building process.
5. Gambrel Roof
A gambrel roof is a classic Dutch roof design that involves two different sloping sections and is typically seen on a barn roof. The lower slope is steeper and the upper slope is at a shallow angle. The life expectancy of a gambrel roof is dependent upon various factors from design, to installation, to materials, to climate as well as the level of maintenance that it receives. A gambrel roof that has been installed by a professional and covered with a durable material like metal sheeting can easily last up to a century.
6. Butterfly Roof
A butterfly roof is one of the most popular modern roof styles around the world. It is essentially an inverted gabrel roof that allows for higher walls and more natural light. This roof style can also be eco-friendly by adding solar panels, high windows for natural light, or capturing rainwater.
7. Jerkinhead Roof
Jerkinhead roofs are popular in Europe. This roof design is more complex and requires more materials and time to construct. However jerkinhead roofs are unique, offer better wind resistance, and stable structure. The lifespan of these roofs depends on the materials used and the quality of the workmanship.
8. Mansard Roof
The Mansard Roof design was popular in the early 1500's and through the 1700's. The term "mansard" means two slopes on all the four sides where the lower slope becomes steeper than the upper one. The style is named after the architect, Francois Mansart and is known as a 'high-class' design. This roof style maximizes space, cuts down on material costs, allows for more light and better heat distribution, and can be a great look for modern or rural areas.
9. Modern Saltbox Roof
Saltbox roof design was popular in the 1700's and 1800's due to the space made to accommodate large families. This New England style is defined by a long, pitched roof that slopes down to the back, generally a wooden frame house. This modern twist on the design is both functional and interesting with its asymmetrical lines.
10. Skillion Roof
A Skillion roof is an attractive design for those who prefer a minimalist modern look. This unique design can use metal, shingles, or even wood as far as materials go. This roof style is eco-friendly in that it works well in hotter environments as it is said to lower the temperature by 5 degrees, allows for sky lights, and solar panels. A few downsides of this roofing style include the decreased attic space and the risk of holding up in hurricane weather.
11. Shed Style Roof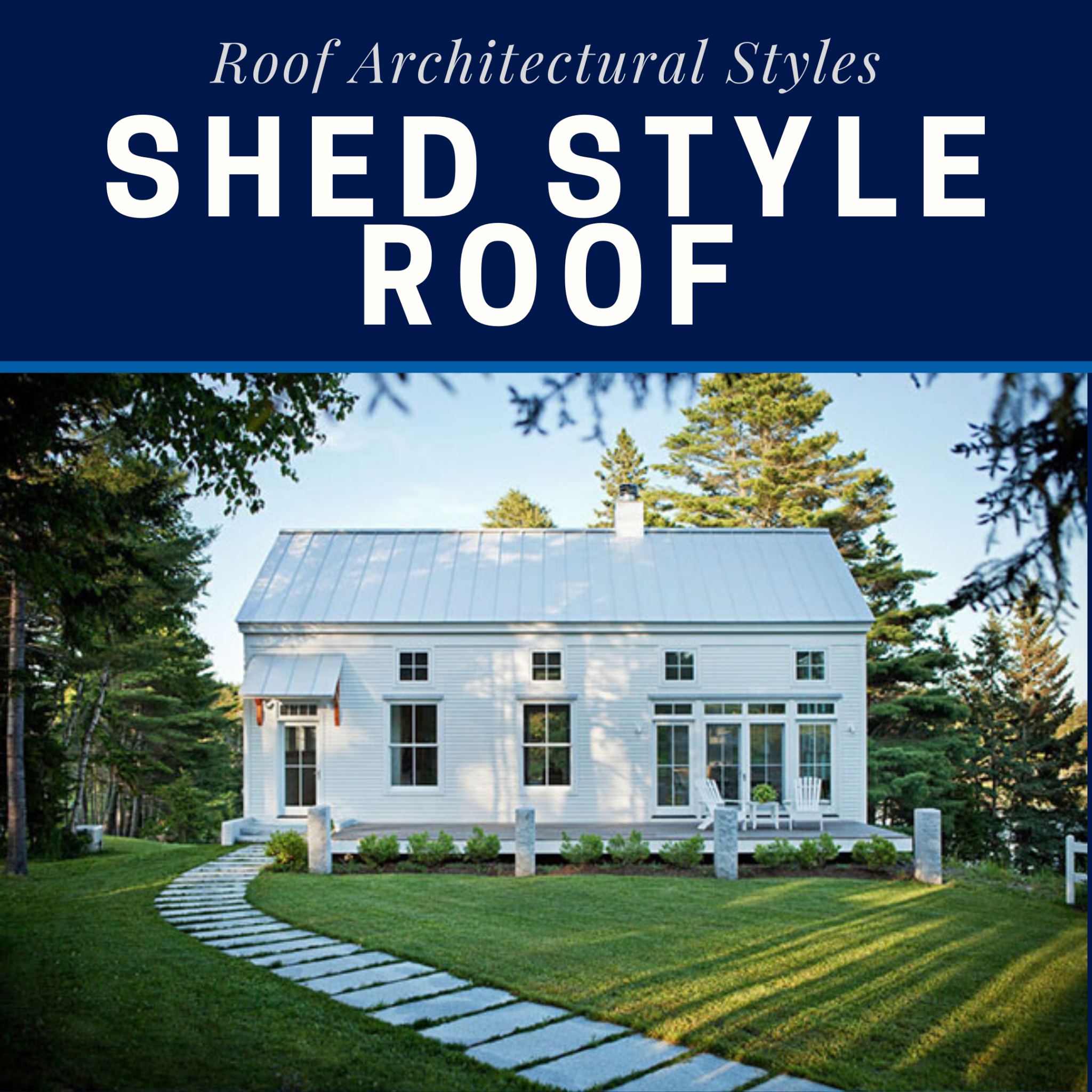 A shed-style roof is a simple design that is easy to build and gives a clean contemporary look. This design is like one half of a traditional gable roof, or a flat roof with a steeper slope. Popular due to its functional aspects like being cost-effective, ability to easily shed water, allow for lots of natural sunlight or solar panels, this roof style looks great with a metal standing seam material.
12. Combination Roof Design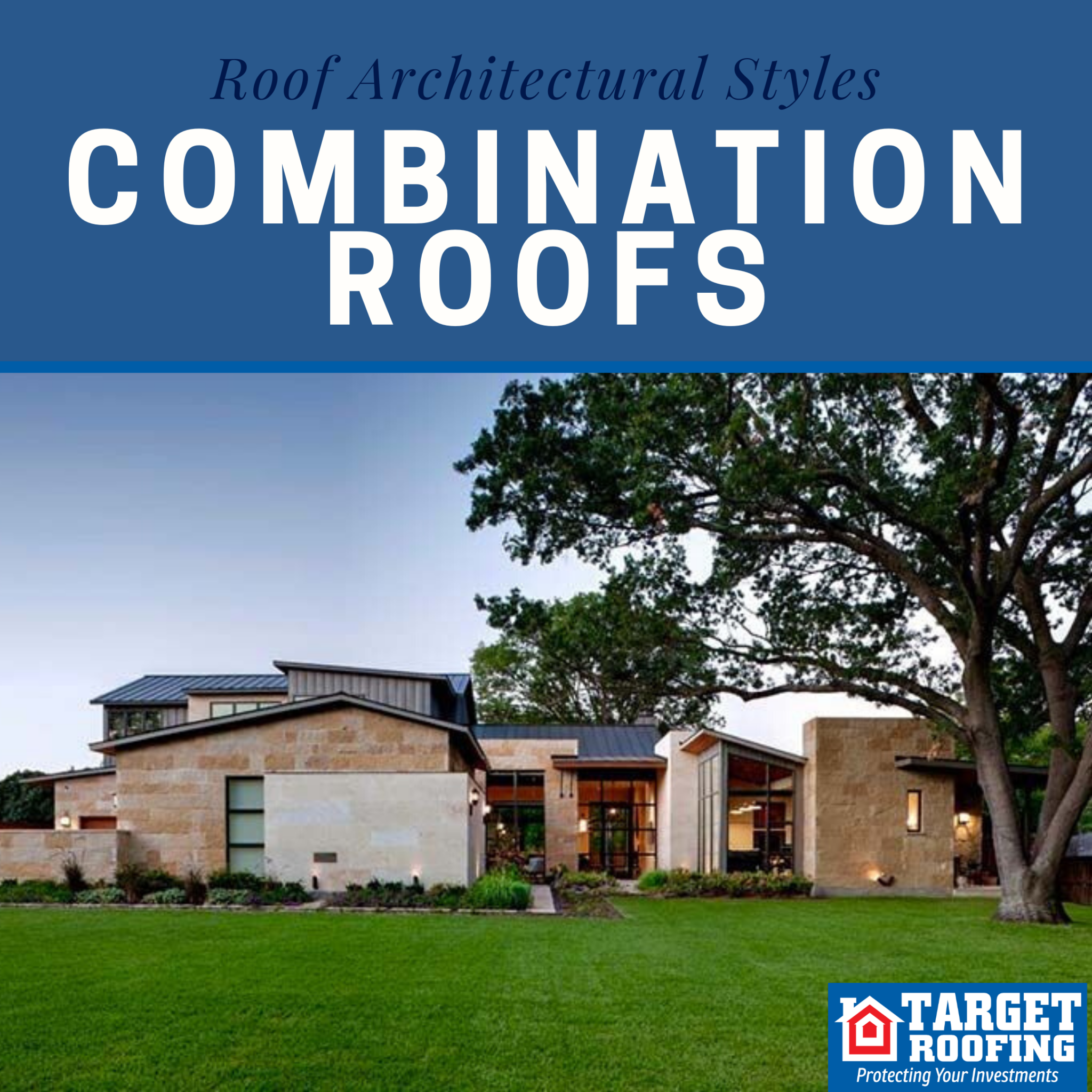 Combination roofs feature a range of styles and combine two or more of the above mentioned designs for a unique and compartmentalized architecture. This type of roof design is usually a result of practicality and includes a few aesthetic pieces for a modernized look. There is a lot of freedom for the architect or home owner with this roofing style in that you can create the roof design around the rooms you envision in your home.
13. Intersecting Overlaid Hip
This roofing style is a combination of gables and hips. An intersecting overlaid hip design is a unique style that looks well with shingles and metal roofing accents.
14. Flat Roof
This mid-century modern aesthetic is a minimalist look with sleek long lines that can bring elements of elegance to the architecture of your home. Flat roofs aren't easy to design and require many functional aspect tweaks to thwart weather conditions. Leaks from heavy rain and snowfall are typical with this roofing style and they rarely last as long as a traditional sloped roof. Fortunately, with new materials and an experienced roofer, the risks and costs associated with this roofing design have decreased.
15. Saw-Tooth Roof Design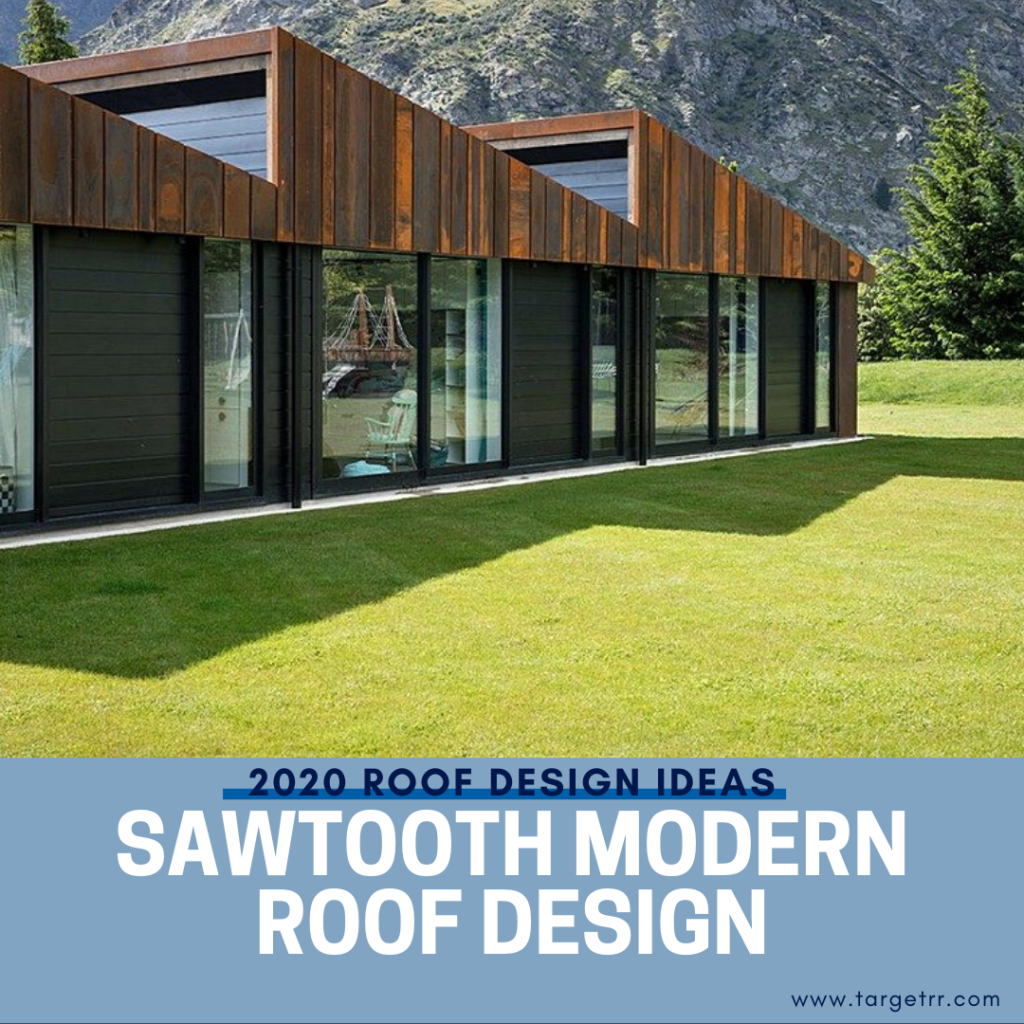 The saw-tooth roof design creates compartmentalized space. This 2020 roof design trend reflects the idea of needing smaller space and even multi-family living spaces. You will often see the sawtooth design in housing complexes or among town homes by the same builder. However, there is something comforting about the rhythmic pattern that sawtooth roofs bring to the aesthetic of a modern home.